Choosing the best golf club head covers to protect your most prized possessions is a matter of choice. There are many types of head covers available that should fit your needs.
Golf is a game of great concentration and precision, of accuracy and control and also of some routine building and constant practice on the greens and the driving range.
Many golfers are extremely passionate about the game of golf and will invest large sum of money in the golf equipment, golf training aids, golf clubs, and green fees they pay during the year.
Because of this necessary precision, golfers' accessories have to be carefully chosen, cared for, and maintained.
A hit can change in distance and direction depending on its weight, shape, and wear. A golf club head's shape determines how a ball slices through the air, the direction it will fly, and even how far it will go.
Golf club heads, in particular, have to be taken cared of more than any other golfing accessory. This is because this device is what gets in direct contact with the ball and spells a win or a loss.
Thus, golfers take great pains protecting their golf clubs' heads with the right golf club head covers.
Head covers are often overlooked, but they are actually one of the accessories that make your bag unique. While their primary purpose is to protect the clubs, many players take this opportunity to express their personality.
No matter how meticulous you are with protecting your golf club heads, rust is inevitable. However, you can slow the problem down by getting the right shield – a golf club head cover, that is.
Club heads are manufactured using chrome-plated carbon steel. Constant use of the club exposes the steel to moisture, abrasion, and friction, resulting, eventually, to rust (and a poor hit).
Using golf club head covers to protect the iron will help keep the area dry and delay rust formation. Some people say using club head covers will only trap the moisture in.
But there are different schools of thought to this practice, so it's really up to you which you prefer to follow.
For the stylish, funky golf club head covers could be a status symbol. Designer golf club head covers are available for sale to give your clubs that sophisticated look.
If you're into fun stuff, you can also buy golf club head covers that have character designs.
You can even have them custom-made, depending on what design you want. If you're a fan of the NCAA, there isn't any reason why you couldn't have a NCAA golf club head cover if you want to.
Here are some we are head covers we have found:
NCAA Set of 3

from Team Effort (choose your favorite team)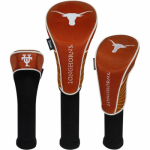 Headcover Matching System® consists of Driver, Fairway, and Hybrid headcovers.
Specifically tailored to fit your clubs, with corresponding woven tag that clearly identifies your driver, fairway, and hybrid club. Features expandable sock that provides maximum shaft protection.
Embroidered with team trademarks.

Individual headcover depicting your favorite college mascot.
Features a patented expandable inner sock lining to ensure a proper fit on your golf club and a longer nylon sock for better shaft protection.
Embroidered with collegiate trademark.

Again, golf, while criticized as being a game for the frail sportsman, is actually an activity that calls for more effort than it seems – intellectual effort, that is.
However, none of the precise calculations would bring any golf game justice if the tools are not in their best shape.
Golf club heads are the most sensitive of all the golfing gear. Thus, they should be taken cared of and protected well with club head covers.
YOU can improve your game dramatically by following the tips outlined above.
Become the best player YOU can be and start lowering your golf score! If YOU really want to elevate your game, hit it farther, straighter, and nearer the hole then practice.
If you enjoyed reading Choosing The Best Golf Club Head Covers provided by Our Golf Shop please Like and Follow us on Facebook, Twitter, and Instagram